The New Album!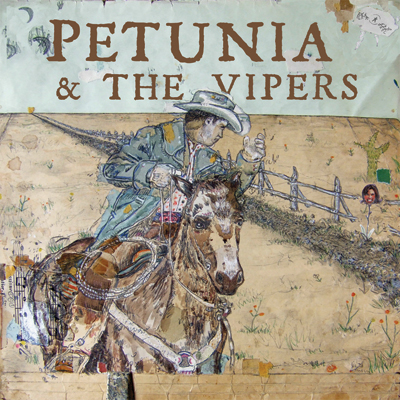 Get the songs HERE at cdbaby.com
Available on Vinyl 12 inch, CD and Digital Download.
Get the Vinyl, CD and other Merchandise here
Recorded and completed over a 2 year period, bedtracks were laid down at The Sound Factory in Hollywood, CA and were recorded by Grammy winning engineer Ryan Freeland assisted by Clinton Welander. Overdubbing and additional recording was done at Heavyosonic in Vancouver and was mixed by Marc L'Esperance. Mastered by Bernie Grundman in Hollywood. Produced by Petunia & Phil Sgriccia.
Featuring:
Petunia: Vocals, Acoustic Guitar, Trumpet, Piano & Charango
Jimmy Roy: Lapsteel, Guitar
Stephen Nikleva: Electric Guitar
Marc L'Esperance: Drums, Percussion, Tenor Saxophone, Harmony Vocals
Sam Shoichet: Acoustic Bass
James Lillico: Acoustic Bass
Patrick Metzger: Acoustic Bass
With:
Ed Henderson: Tiple
Lenny Castro: Percussion
Doug Tielli: Singing Saw
Tim Tweedale: Trumpet
Very special thanks to Phil, who really made the album possible.

Review of the new LP – The Georgia Straight, Vancouver, BC, November 2011.
"Sometimes Vancouverite, fulltime yodellin' cowboy Petunia often presents, live and on past CDs, as offering a stripped-down take on roots music, dark and lonely as a telephone pole on a stretch of highway with no streetlights, with the obvious musical references being to Jimmie Rodgers and Hank Williams. His new LP – his first full-length to come out on vinyl (with bonus tracks on the CD) – blows away these preconceptions and vastly expands his domain, with energetic rockabilly rave-ups ("Maybe Baby Amy," replete with Jerry Lee Lewis yelps) and lush, complex arrangements  (with lapsteel guitar, horns, kazoo, piano, horns, and deft drumwork by Marc L'Esperance). There's also a couple of absolutely fantastic bits of songwriting in evidence – like "Mercy," which yokes a swingin', revival-tent atmosphere to half-growled lyrics about guilt, sin, redemption, and gambling, which Petunia delivers with a vocal fire and fury previously unheard on his solo CDs. Impressive stuff – this may well be the Vancouver roots music release of the year.
45 rpm Vinyl Release (2011)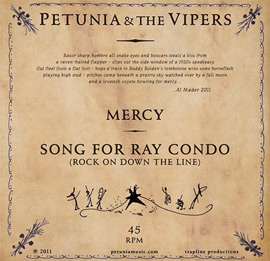 1. Mercy
Sophisticated and straight to the point .,. sensual & romantic, very danceable. Intelligent lyrics. Written about the timeless human struggle to live and strive to be good.
2. Song for Ray Condo (Rock on Down the Line)
Written about Ray Condo, both three weeks before and then finished shortly after his death.
As the title suggests, this is a rockin' number.
Featuring:
Petunia: Vocals, Acoustic Guitar, Trumpet, Piano
Jimmy Roy: Lapsteel, Guitar
Stephen Nikleva: Electric Guitar
Sam Shoichet: Acoustic Bass
Marc L'Esperance: Drums, Percussion, Tenor Saxophone
Tim Tweedale: Trumpet on 'Song for Ray Condo'
Live at the Cafe Montmartre in Vancouver (2009)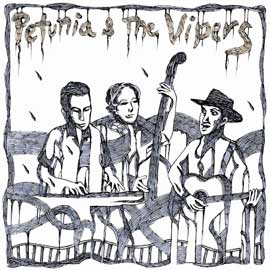 1. God's Gonna Cut You Down
2. Never, Never Again, the Ballad of Handsome Ned
3. The Cattle Call
4. Ghost Riders in the Sky
5. Seasons of My Heart
6. Wayfaring Stranger
7. Dog Gone Lonesome
8. Knee Deep in the Blues
9. Ramblin' Man
10. I Ain't Never
11. Don't Worry About Me
12. The Big Rock Candy Mountain
13. Wake Up Sinners/ Ain't No Grave/
Featuring:
Petunia: Lead & Backup Vocals, Guitar, Kazoo
Jimmy Roy: Lapsteel, Dobro & Electric guitars
James Lillico: Stand Up Bass & vocals on "Dog Gone Lonesome"
BlackAlley Choir: Backup Vocals
Bronwen Jones: Singing saw, Vocal Harmony
PREVIOUS PETUNIA RELEASES
Petunia & The Loons (2007)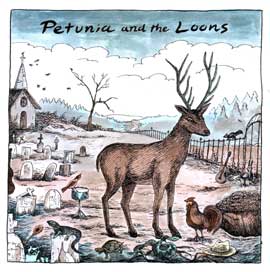 1. My Bacon Princess
2. Come On Down to the Show Tonight
3. Steel Tooth River
4. Tick Tock
5. Cowboy Waltz
6. Sheila's Song
7. Big Wide River of Love
8. Zu Zu
9. Hillbilly Hut
10. Cold Heart Breaker
11. Once Upon a Time
12. They Almost Had Me Believing
13. Bright Light
14. How Long Would it Take (Christina's Lullaby)
Featuring:
Petunia: Lead Vocals, Guitar, Charango, Kazoo
Matt Carter: Percussion
Kyle Cunjak: Big Fiddle, Vocals
Alan Jeffries: Lead Guitar, Vocals, Banjo, Lap Steel, Mandolin
Sebastien Michaud: Trumpet, Tenor Sax
Rated #1 Independant release of the year on Canadian College Radio for 2007 in the Folk/Roots/Blues category!
City of Life or Hayride to Hell (2007)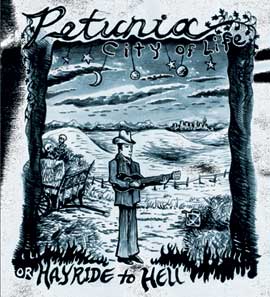 1. 1000 Poets
2. Bicycle Song
3. Politics & Police
4. Mists of the Morning
5. Body & Soul
6. Bye Bye Blues
7. My Gal / Love Isn't Blue
8. El Paso
9. City of Life
10. ZuZu
11. Cowboy Waltz
12. Creeping Sun
13. Mercy
Featuring:
Petunia: Lead & Backup Vocals, Guitar, Jug, Kazoo
Washboard Hank: Vocals, Banjo
Charlie Hase: Pedal Steel
Alan Jeffries: Stand-Up Bass, Acoustic Guitar, Vocal Harmony
Willie 'Low-Down' Leclerc: Moaning, Sound Effects
Al Mader: Vocals, Washtub Bass (The Minimalist Jugband)
Steven Nikleva: Acoustic & Electric Guitar, Ebo, Chopsticks
Lee Whalen: Vocal Harmony
Clayton Yates: Mandolin
The Ugliest, Bitterest, Coldest, Dreary Place I've Ever Seen (2002)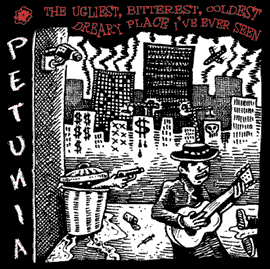 1. The Lonesome Pine Hollows
2. I Was Roaming
3. The Ugliest, Bitterest, Coldest, Dreary Place I've Ever Seen
4. Big Bright White Ice Cream Truck
5. Don't Look Back
6. My Sweetheart
7. Big River
8. My Gal
9. Trouble On My Mind
10. Hillbilly Hut
11. La Vie En Rose
Featuring:
Petunia: Vocals, Guitar, Kazoo
PETUNIA LIVE! in T.O. (1999)
1. Valentine's Day Shuffle
2. Big Wide River of Love
3. Trouble On My Mind
4. Come Sit Here With Me Little Darling
5. Where The Bees Gather Honey
6. Teardrops Rollin'
7. I Live In The Past
8. Rocky Road Blues
9. Don River Jamboree
10. No Hiding Place
11. Jambalya(bonus track)
12. In The Summertime
Featuring:
Petunia: Vocals, Guitar, Kazoo
Pineapple Frank: Dobro Guitar
Paul Rigby: Electric Guitar
Sam Shoichet: Bass
Dann Whiteley: Vocals, Mandolin